Sound of tradition
The Museum of Musical Instruments, hosted in the rooms of Castello Sforzesco in Milan, houses a rich collection of musical instruments from the 15th (b.c.) to the early 20th century. It's a path that winds through mandolins, violas, guitars, violins, wind instruments and harpsichords ordered by typology and origin. This itinerary wants to examine in depth one of the Lombard worldwide excellence: the "Liuteria" (bow-instruments making and lute manufacture).
The violin-making tradition has been deeply rooted in the town of Cremona for more than 500 years; here it found its ideal development site, thanks to the presence and work of Andrea Amati. It reached its peak about two centuries later, with Antonio Stradivari, Giuseppe Guarneri del Gesù and Carlo Bergonzi, and it is still very much alive today in over 150 craft shops located in the wonderful medieval centre. But the "liuteria" is not only exclusive of Cremona.
In Milan there are many shops of masters who dedicate themselves with passion to this ancient and noble art. The tour will end with the visit of the workshop of a violin-maker who will explain the steps of building a violin and its secrets.

​Details: departure point Museums of Sforza Castle in Milan, duration 2,30 hours.
Photo courtesy: Dario Garofalo, Laila Pozzo, Emanuele Zamponi
2016
by Elesta in collaboration with
Fondazione Cologni dei Mestieri d'Arte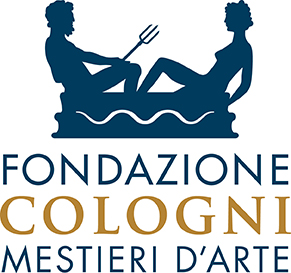 The Cologni Foundation for the Métiers d'Art is a private non-profit organisation founded in Milan in 1995 by its President Franco Cologni. The Foundation promotes a range of cultural, scientific and educational projects, aimed at protecting and fostering the arts and crafts. The "Mestieri d'Arte" and "Ricerche" book series (published by Marsilio) narrate the history of this outstanding heritage, from its origin to the present day, examining both the great tradition of Italian know-how and new interpretations of contemporary craftsmanship. The book series "Storietalentuose", published by Carthusia, introduces children to the fascinating world of Italian artistic crafts. The Cologni Foundation created the magazine Arts & Crafts & Design, published by Swan Group, dedicated to the excellence of the "Made in Italy" hallmark. The Cologni Foundation actively supports the training of young people in high-skilled craftsmanship and their integration into the labour market with its internship project "A School, a Job. A Road to Excellence". www.fondazionecologni.it